After more than 2 weeks teasing the announcement of Source 2 version of CS:GO, Valve has finally done it. Called simply "Counter-Strike 2", it will arrive available for everyone this summer. Ahead of time, we already know a lot about the upcoming free update. Oh that's right, even though the name has changed, CS2 will update your current CS:GO client rather than sell you a new game.
On Wednesday, Valve dropped the big announcement and people went wild on social platforms. We'd like to go over some of the most significant changes coming to the title, from upgraded visuals, to maps and even tickless servers.
Counter-Strike 2 plays different
For starters, it might be a very similar experience, but it's algo significantly different. How so? If you know anything about CSGO, then you know how important smokes and utility are. Now, smokes will be responsive to environment, lighting and react to shots and granades clearing paths and affecting vision dynamically. Rather than creating a big smoke sphere, they will also seep out of broken windows, opened doorways, expand through tight corridors and combine with other smokes.
Counter-Strike 2 looks and sounds different
More polished than ever, Source 2 engine provides CS with different and upgraded visuals. Cleaner, brighter and even bringing a new reworked audio to the table. Visual effects are brand new: from Source 2 lighting and particles to water, explosions, fire, smoke, muzzle flashes, bullet tracers, impact effects, blood and more. Sounds like a lot doesn't it? It isn't all of it: CS 2 takes a leap with a new HUD with fresh visuals that also communicate importante information about the game state.
The first time you throw a molotov or a smoke, you might get a little distracted by the way it looks or interacts. We also know many people worry for their in-game skins, so don't! You get to keep all of it, and even get to see they got and upgrade and are looking slicker than ever.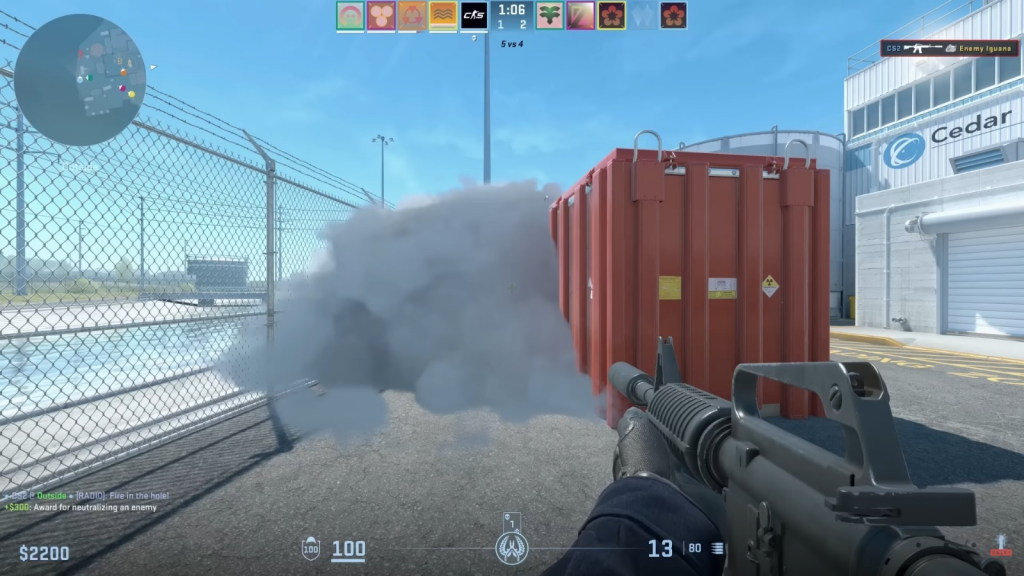 Overhauled maps
Iconic locations don't change, they just get better. The Valve team in charge of the FPS took the necessary time to present similar but very refreshing and slightly redesigned maps. They might look brighter for starters, but there is so much more. Fully rebuilt with Source 2 tools and rendering features, classics like Nuke, Dust 2, Italy, Overpass and plenty have been fleshed out with realistic materials, lighting and reflections.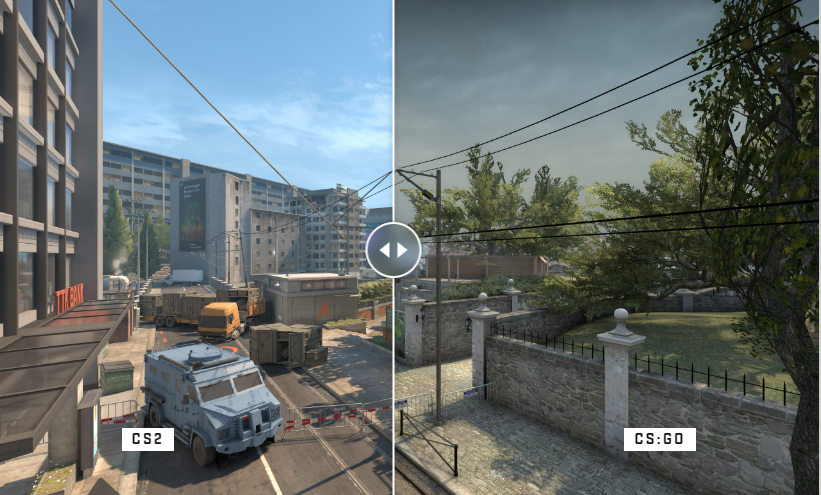 Valve has confirmed that there are more news to come. We will have the time to learn more about the tickless servers that will affect the highest level of play and deep dive into gameplay differences. For now, only a few select amount of players will be testing CS2 ahead of time, so we will probably hear a lot in the upcoming months. Worry not, it will arrive before five months pass. Exited already? If you are eager to read more, you may head to Counter Strike's blog.