We've been making waves with continuous growth and evolution in the world of competitive gaming. Offering a space for players and teams to showcase their skills, we are proud of our latest significant stride by integrating the iconic MOBA game. We are now hosting League of Legends tournaments.
Expanding Horizons
To begin with, one of our main goals is to house as many gaming communities as we can and help them make it their own. We know it is a never ending endeavor, but even so, we have already taken big steps forward. Popular web 2 games like PUBG and Call of Duty are prime examples, as well as our ventures into the fascinating web 3 game market with titles like Axie, Koins, and Ephere Football.
The inclusion of League of Legends marks a symbolic milestone as one of the most influential and beloved MOBA games worldwide. It brings a massive player base and a rich competitive history to the platform. Its tournaments will feature Blast's self-reporting system and provide organizers with a simple and efficient way of registering progress in the app.
Growth and Evolution
By enriching our game library to include such a prominent title, Blast opens doors to new opportunities. We look to attract passionate players and teams from all corners of the globe. With each new addition, Blast solidifies its position as a leading tournament platform that caters to the diverse interests of the gaming community.
Starting with a Bang!
To celebrate this significant step forward, we already have a League of Legends tournament active in collaboration with our friends at Punto Gamers. Assemble your team and compete over a 50 USDT prize pool!
But that's not all, we are hosting a Riot Points giveaway for two lucky winners. Make sure to check it out, you could be one of them!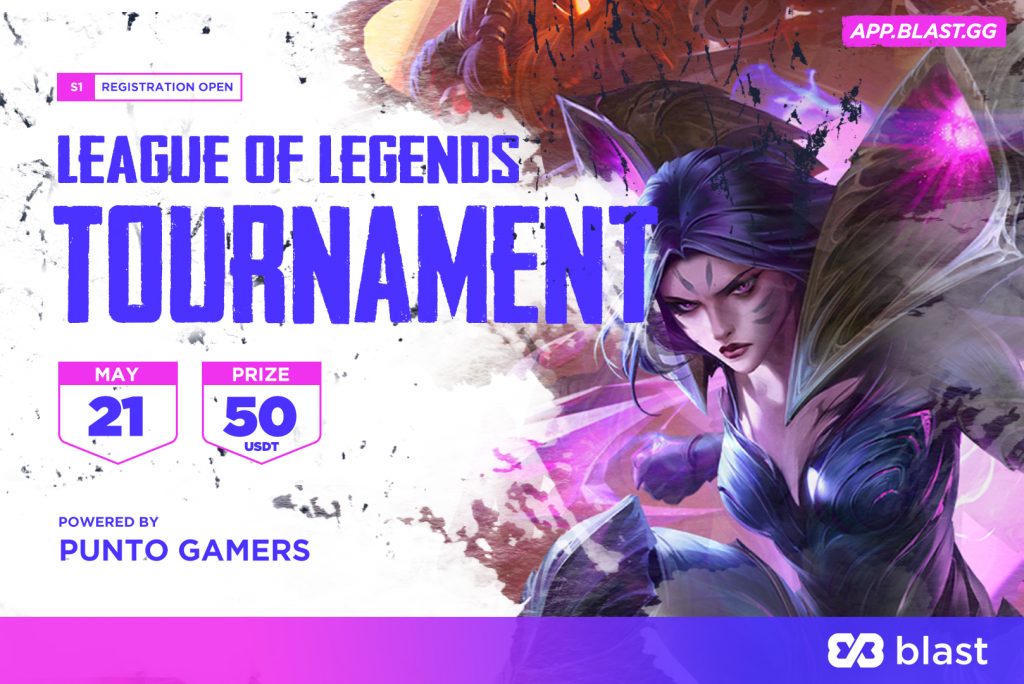 Want to build your own team but don't know where to start? Check out our latest user guides, we'll set you up in a second!
The iconic MOBA is here to stay, we hope to see you in the Summoner's Rift. What would you like to see on Blast? Join our Discord and let us know!