A new player joined the mobile gaming competition with Activision Blizzard's latest Warcraft Arclight Rumble. Heavily inspired by Clash Royale, its arrival has been long expected by the mobile community.
This exciting new game offers players the opportunity to collect their favorite Warcraft characters and creatures to use them as minis. These "toys" allow us to build decks consisting on six creatures led by a "Hero" of our (limited) choosing. Just like in CR, we can build different strategies according to the challenge at hand. All in order to destroy the enemy base or main structure.
What should we know about it?
The battlefield varies with different layouts, but the resemblance to its competition is undeniable. We are faced with two or three lanes. There, we can send our units into battle as they advance making their way to the other side where the enemy awaits.
Just like in Clash Royale, the progression system consists of leveling up characters to empower them and even acquiring their unique talents. As we level up, we'll be unlocking a variety of units through the store. These minis have different types of damage and range from tanks to flying to siege and more in between. We also have spells at our disposal spells that can instantly turn the tides of battle.
Even so, ultimately for many the focus of attention resides on the PvP experience, which becomes all the more interesting with full access to the cards entire catalog.
Bigger and richer battlefields
Deploying a mini or activating spells demand gold that we acquire steadily and passively. But, just as well can be collected through treasures or mining specific areas deploying Kobolds or Dwarves to name a few. This addition stands out from CR gameplay and is reminiscing of the Warcraft RTS experience with resources to collect on the map. Nice touch. Not only that, but maps are bigger and don't fit the mobile screen entirely. Players need to swipe up and down to have a general vertical look of the battlefield.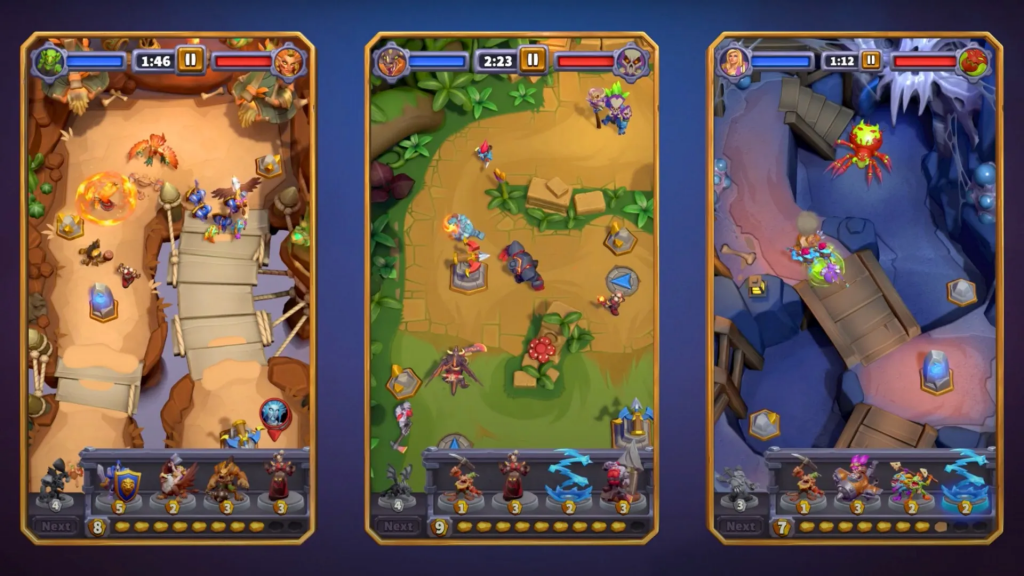 Closing thoughts
All in all, the game's presentation works like a charm. Old friends and newcomers get hooked in all the same by the game's short challenges as they progress to new but familiar areas. The mobile gaming paywall is where things become a little trickier: $19.99 for a lifetime XP boost is a little too expensive in comparison to other offers in the market. If Blizzard expects it to be profitable, this system should be re-evaluated. Either to soften it or to make it more appealing for players.
Just now out of the oven, Warcraft Arclight Rumble could easily become a big hit. They just have to make sure that players feel rewarded for all the hours put into the game. Maybe even build on top of an attractive PvP experience that can become something bigger. Only time will tell.
If you haven't tried it and are looking to give it a shot, here are the minimum requirements according to Activision Blizzard:
CPU – Snapdragon 820 o superior
GPU – OpenGLES 3.0 o superior
Android 5.1 (API nivel 22) o superior
RAM – 3 GB de RAM o superior
If you enjoy competing in Clash Royale events and in other mobile games, don't forget to check out our upcoming tournaments and make sure to visit our guide to set-up your CR account. Who knows… maybe you'll see Warcraft Arclight Rumble there too soon enough!